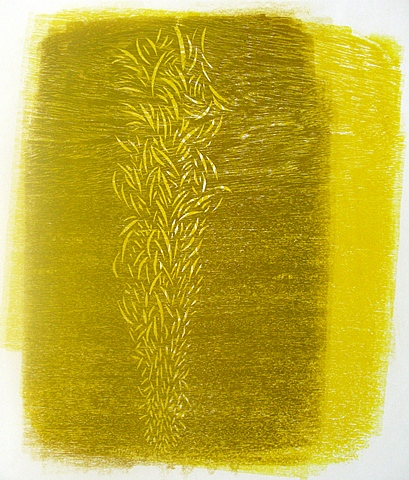 The Well, Woodcut on Paper, 1996
Landscape, and the bonds I feel with nature, is most often my inspiration. The marks in The Well exist somewhere as leaves, somewhere as marks, somewhere as a tumble feeling of all the pieces inside rising up and spinning into an endless spiral to the above, and from the below. The Well, created in India where I lived for three years, is a seed of what I investigate now.
Now, I most often investigate vertical brush marks: smaller and larger, many in rows and rows or a seemingly random few. I want to be connected over and over and again to the feeling of approaching and acting upon the surface for the first time: holding the brush as an extension of who I am, and being present to that one mark and to every mark I ever do in time and space. Seeing the vertical mark as moving between above and below can be seen as a reflection of Chinese philosophy: moving the brush vertically, am joining heaven and earth over and over, again and again.
How much can I say with just vertical brush marks? That is the question and my investigation. In an information-filled world and as an aspiring minimalist, am engaged in stripping down to essences and working with the vertical movement, color, rhythm, layers, light.